Bespoke Cast Iron
Introduction Text starts here. Your content goes here. Edit or remove this text inline or in the module Content settings. You can also style every aspect of this content in the module Design settings and even apply custom CSS to this text in the module Advanced settings.
Cast iron posts and railings fronting a property in Palace gate, London. A detail picture is shown to the right.
A detail from the park railings showing cast iron finials and urns.
Heritage cast iron gates and railings are produced using a pattern from which a mould is made. Molten iron is then poured into this mould to create a gate which is an exact copy of the pattern.
Although initial pattern costs are very expensive, the mould can be used many times over to produce high quality gates and railings that offer exceptional value for money.
Heritage Cast Iron – The Stirling Collection
Victorian Style Cast Iron Gates – Stirling
Stirling – GA025
Pair of Stirling 12ft (3660mm) driveway gates
Maximum Height: 2100mm
Width: 3600mm
SHOWN ABOVE – The design of the main gates are reflected in and complimented by a pedestrian gate, choice of gate posts, smaller gates and railings
Stirling – Accessories & Ancillaries for cast iron gates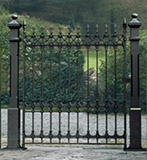 Stirling Pedestrian Gate GA028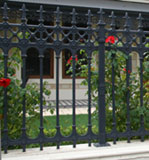 Stirling Railing Panel GA030

Stirling Intermediate Post GA031
Victorian Style Cast Iron Gates – Stewart
SHOWN ABOVE – The design of the main gates are reflected in and complimented by a pedestrian gate, choice of gate posts, smaller gates and railings
Stewart – Accessories & Ancillaries for cast iron gates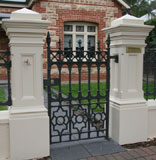 Stewart Pedestrian GateGA007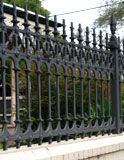 Stewart Half Height Railing Panels GA008A

Stewart Half Height Railing Post GA003
Gilberton Style Cast Iron Gates from Heritage
SHOWN ABOVE – The design of the main gates are reflected in and complimented by a pedestrian gate, choice of gate posts, smaller gates and railings
Gilberton – Accessories & Ancillaries for cast iron gates 

Gilberton Gate PostGA001
Gilberton gate post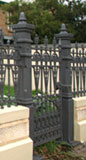 Gilberton Pedestrian Gate GA010
Gilberton Pedestrian Gate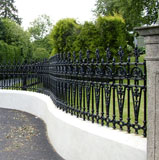 Gilberton Railing Panels GA013A
Half height Gilberton Railing Panel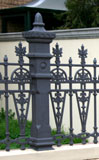 Gilberton Intermediate Post
Half height Intermediate Railing Post
Prospect Style Cast Iron Gates from Heritage
SHOWN ABOVE – The design of the main gates are reflected in and complimented by a pedestrian gate, choice of gate posts, smaller gates and railings
Accessories & Ancillaries for Prospect cast iron gates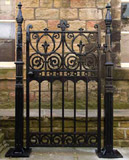 Prospect Pedestrian GateGA034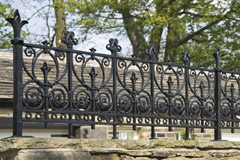 Prospect Railing PanelGA133A
Prospect Railing Panels with feet
Terrace Style Cast Iron Railing Panels

SHOWN ABOVE – Component parts of the Terrace range can be viewed on the Terrace drawings and specifications page
Terrace Accessories & Ancillaries for cast iron gates