Full in house Design suite
Fine Iron are able to offer a complete design package to s
We work closely with our customers during the design stage to develop our clients vision into a reality – the only limitation is your imagination!
Once happy with the design details we can provide detailed drawings and even a 3D visualisation of the ironwork to ensure our clients are happy with every aspect of the design before the commencement of manufacture.
We have made a vast array of bespoke items ranging from modified porch, veranda and canopy designs to entirely bespoke balustrades, gates and railings and furniture including – furniture feet, table bases, radiator covers, weather vanes, metal screens, fireback's and fire furniture and chandeliers to name a but few!
All of the drawings on this page are intended to provide you with food for thought.
Some of the designs have been produced by famous designers from the past, we can create reproduction gates from any historical period or style or design and produce fresh and contemporary ironwork with a 21st century feel.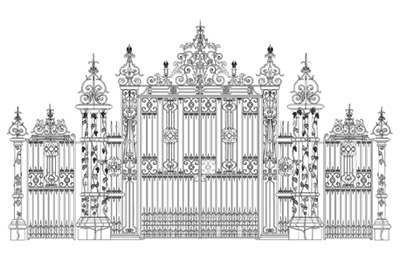 The two drawings below show a gate produced for a client in Wales. The image on the right details information for the customer to peruse and assess.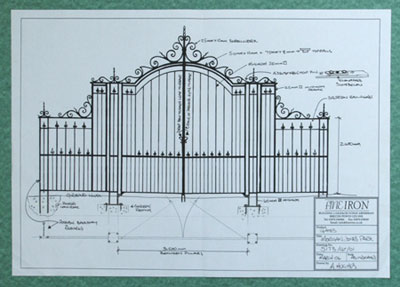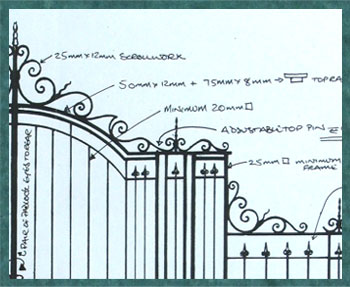 Choice of Material
All of our gates are available in a choice of materials and construction methods
Wrought Iron
A time proven material and the most expensive option.
Pure Iron
Available only recently in the UK but tried and tested throughout Europe, particularly France.
Less expensive than wrought iron but considered to be even more durable.
Mild Steel
The least expensive option. Although galvanising is always a good idea modern paint quality and durabilty has evolved considerably in recent years and offers a cost effective alternative to galvanising.
Galvanised Mild Steel
Hot dip galvanising adds to the overall cost but is a reliable treatment to help reduce future maintenance costs
Purely Forged
All work is produced using time honoured and proven methods and requires many hours of skilled time
Forged and Fabricated
As above but the time involved is reduced by integrating some modern materials and techniques
Fabrication & High Finish
Modern production methods and finishing systems can still produce outstanding results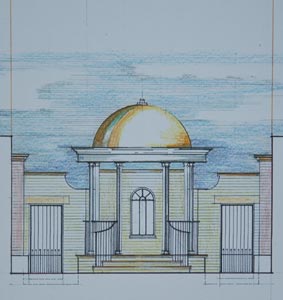 STAIRCASES – BALUSTRADE DESIGN
ORIGINAL & REPRODUCTION IRONWORK DESIGNS
A typical working drawing showing the design and construction details of wrought iron balustrading for a staircase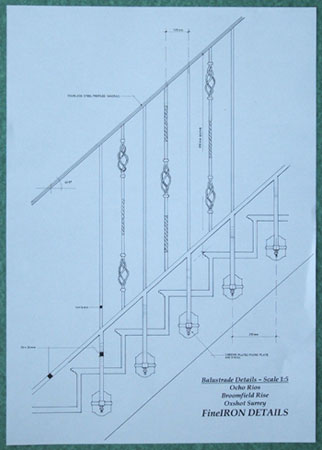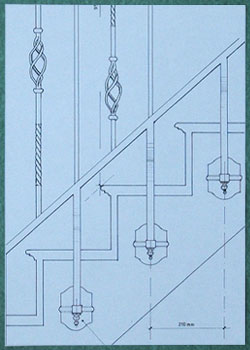 WROUGHT IRONWORK DESIGNERS