Verandas, Porches & Canopies
PORCHES, VERANDAS AND CANOPIES
All of our ironwork is handmade to order from solid mild steel and finished using best quality paints applied with our tried and tested three coat spray system.
Our modular designs are easy to assemble and install and come in a range of typical sizes to which can be mixed and matched to suit your needs.  We specialise in bespoke metalwork and are of course happy to provide bespoke sizes and designs tailored to your exact requirements. 
Complete your porch or veranda with a choice of roofs and finishing touches.  Please see below for more details.
Our range of ironwork style options have been designed to complement a broad variety of architectural periods and personal tastes. All of our designs are available in sizes to suit the most typical door openings – however, as all of our ironwork is made to order we can create entirely bespoke sizes to suit any opening or space – we do not charge a premium for this service.
We are confident that you will see a design that stands out but if you are looking for something more individual please contact us to discuss your requirements.
We offer a wide variety of porch iron work designs and finishing accessories to choose from or the option to create a completely bespoke porch design to suit your own style and the unique features of your property.  Our extensive range of aesthetically original metal work designs complement any period property whether it be Georgian, Victorian, Regency, or Arts and Crafts, and their simple elegance work equally well on more modern homes.
A veranda (sometimes spelt 'verandah') is a wonderful addition to your home, acting as an outdoor room to enrich your lifestyle, giving you space to relax, entertain friends and family or simply enjoy your own company with plenty of shade to keep your Pimm's cool in the summer! We can use any of our porch wrought ironwork designs or we are able to provide a bespoke design service to create your unique, personalised outdoor space.
Our door Canopies are a great way to offer shelter from the elements whilst making your home characterful and inviting. Where space is limited or open access is required, a canopy is a great alternative to a porch. We offer a range of designs or the option to create a completely bespoke piece.  We can also make a door canopy to match our porches if you have a second entrance you would also like to cover.
Fine Iron offer several roof options so that you can pick the finish that is right for you and your home.
Wanting a Lead, Copper or Pure Zinc finish? –  Then our roof frame work is the option for you. We would provide you with our roof framework that has been designed for use with our ironwork for finishing by others.
Thinking of light? – If you are concerned about losing light or letting light in then our glazing bar roof frame, with the option for full or partial glazing,  
Want a lightweight, complete solution? – Our galvanised mild steel, rolled and folded roof is a complete roof in itself and powder-coated in a heritage lead grey.
To complete your new porch or veranda we offer a range of high quality, craftsman made finishing touches to complement the robust quality of our wrought ironwork.
These carefully crafted pieces are made in Wales using skilled local suppliers – from natural Forest of Dean stone plinths, Cast shoes to our range of Spandrels. 
All of our Porches, Verandas and Canopies are finished in our high quality 3 coat paint system to ensure your ironwork stands the test of time  available in most RAL colours to ensure your new ironwork fits your scheme.
Ideas and Inspiration to Improve and Enhance your Home
This page is dedicated to metal porches, verandas, canopies and balconies in wrought iron, iron and steel. It has information on styles and accessories with some excellent photographs of some of our projects.
Fine Iron Traditional Porches & Verandas
An excellent finish can be obtained on the steel construction of our contemporary and traditional porches and verandas using an electrostatic paint system.
The modular designs are relatively simple to install. They come in a range of standard sizes which can be mixed and matched to suit your needs.
We also produce a traditional zinc steel hip roof finished with a textured lead-effect powder coat or alternatively,
we can make a roof frame for cladding in a material of your choice such as lead, copper or slate.
We are of course happy to provide bespoke designs and sizes if required.
Wide Regency period style
of Mild Steel Traditional Entrance Porch
This Regency Wide style traditional entrance porch in Suffolk was installed by the client.
Lead porch canopy forms the roof of our Regency Light style of ironwork mounted on stone plinths.
Regency Period Style Porch
Mild Steel Porch
Regency Light style corner porch in painted finish on existing brick plinths with traditional rolled steel roof finished in a powder coated lead grey colour.
A delicate and quite intricate verandah with a lead canopy graces this garden entrance in Hampshire
Contact us for free consultation
This ironwork veranda was produced to replace the original cast structure which had gone beyond economic repair. This replica was manufactured from laser-profiled steel combined with castings. Casting the entire structure would have exceeded the clients budget. The veranda is shown in galvanised finish prior to painting and installation of the roof.
A close up of the combined laser profile sections and castings demonstrating how different materials can be utilised to compliment each other.
REGENCY LIGHT PORCH WITH LEAD ROOF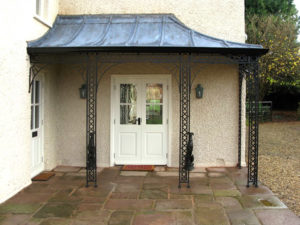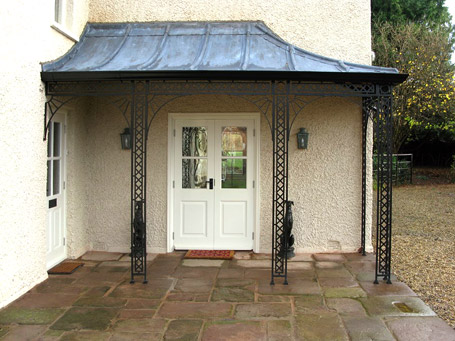 The design of the of the columns and corner supports of the Regency Light Porch partially represents the rays of the sun.
CORNER PORCH WITH LEAD ROOF CANOPY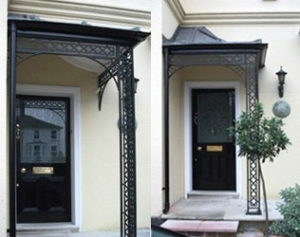 Georgian period style of corner entrance porch in black painted finish with traditional lead roof canopy.
HOTEL BALCONIES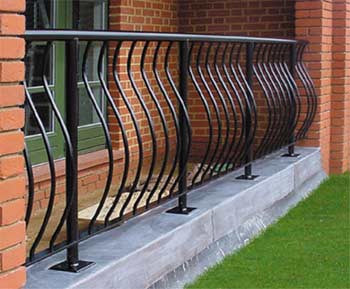 A closer view.
LEAD CLAD CANOPIES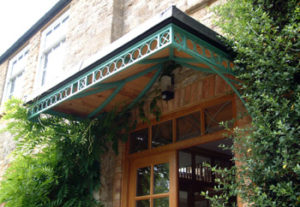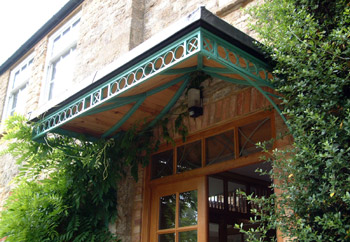 This canopy was designed to compliment the veranda shown to your left.
STEEL PORCHES & VERANDAHS: THE REGENCY LIGHT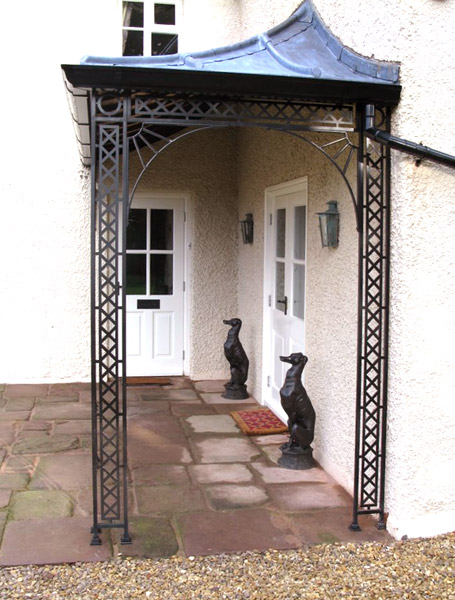 Regency style veranda, lattice design constructed from mild steel. Can be supplied with or without decorative brackets.
On this particular project Fine Iron produced a roof frame that was lined and lead clad by the clients builder. As an alternative we produce a fabricated rolled zinc roof that is powder coated in a textured lead grey finish.
REGENCY LIGHT PORCH WITH LEAD ROOF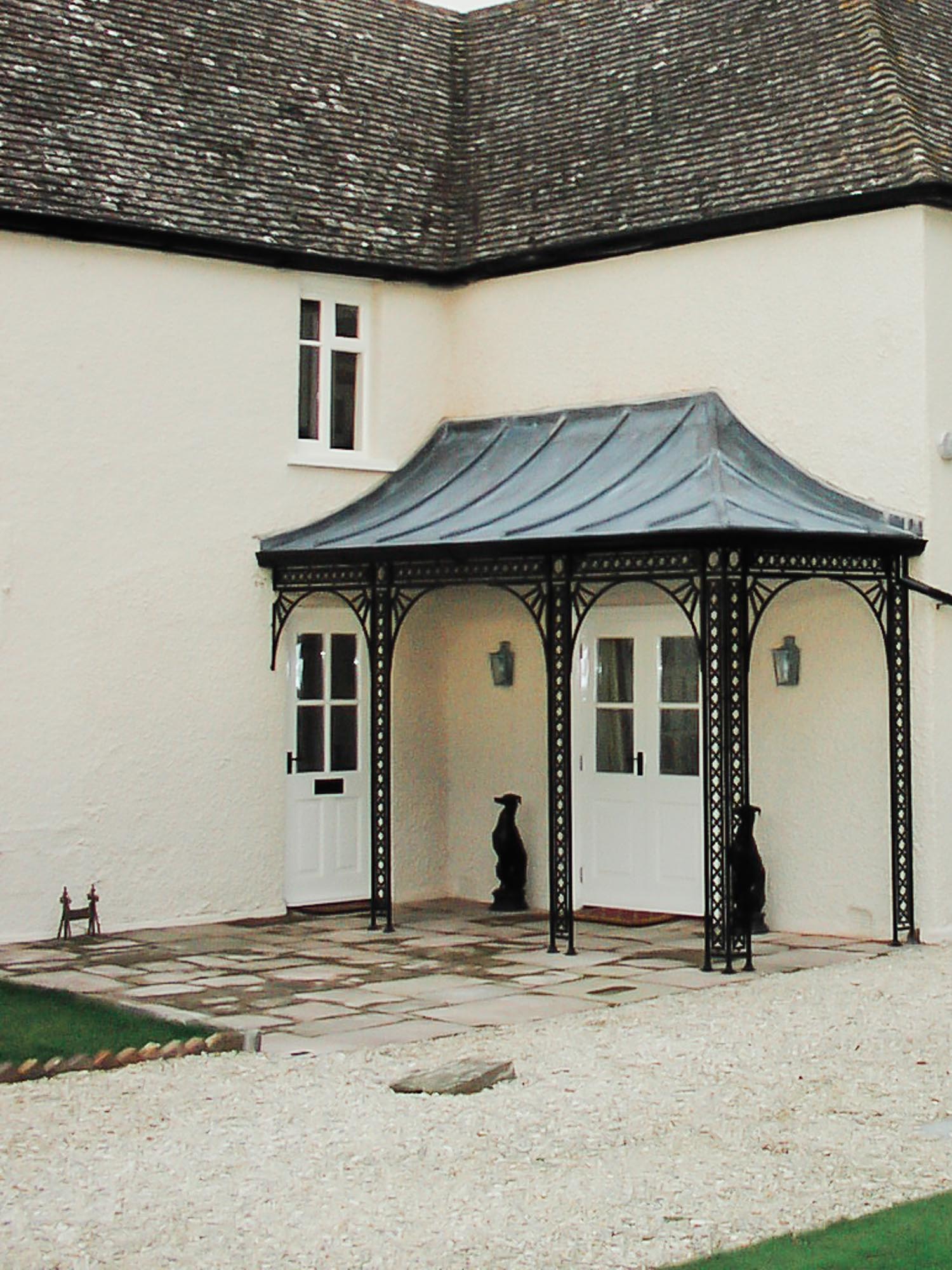 The design of the of the columns and corner supports of the Regency Light Porch partially represents the rays of the sun.
WROUGHT IRON BALCONIES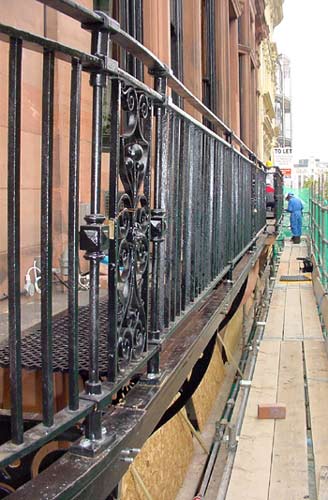 The Ulster Reform Club balcony, Belfast.
Shown during reinstatement.
CELTIC WROUGHT IRON VERANDA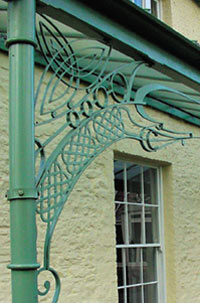 A closer view showing the detail of the dragons head and knotwork. This design was influenced by the Book of Kells.
WROUGHT IRON VERANDAS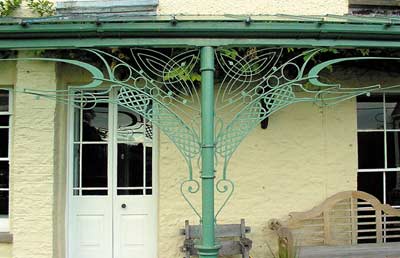 A uniquely designed Celtic style veranda commissioned by a private client. This project was one of three for the same premises, including simple traditional balustrade and elaborate 'Celtic' style firedogs.
PERIOD WROUGHT IRON BALCONY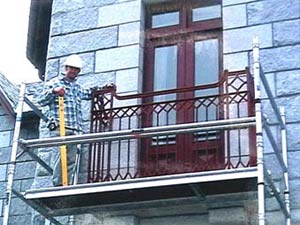 This wrought iron Balcony of the Georgian period is in Cheltenham. We can produce wrought iron balconies and ironwork from all periods and styles including Georgian, Regency, Victorian, Art Deco and contemporary.
MODERN IRONWORK HOTEL BALCONY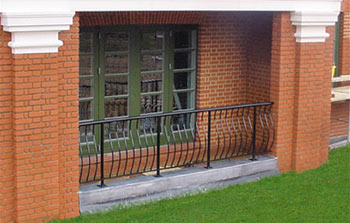 An example of a modern balcony built for a hotel.