Metal Door Canopies, Porches & Verandas
Metal Door Canopies, Porches and Verandas
You can't always rely on the weather here in Britain – but you can rely on Fine Iron, whether you need a porch, cantilever canopy or a veranda – we have got you covered!
At Fine Iron we offer a wide range of modular ironwork designs that are easy to assemble and install. We understand that every home is unique and our ironwork can be made to almost any size and configuration to suit your home as well as your individual needs and  preferences. We also specialise in bespoke metalwork and are of course happy to provide custom designs tailored to your exact requirements.
All of our ironwork is handmade to order from solid steel and finished using best quality paints applied with our tried and tested three coat spray system. We also offer in-house zinc thermal coating recommended for coastal locations. Complete your door canopy, porch or veranda with a choice of roofs and finishing touches.  
The Fine Iron Team will work with you from start to finish to ensure you have the perfect ironwork for your home!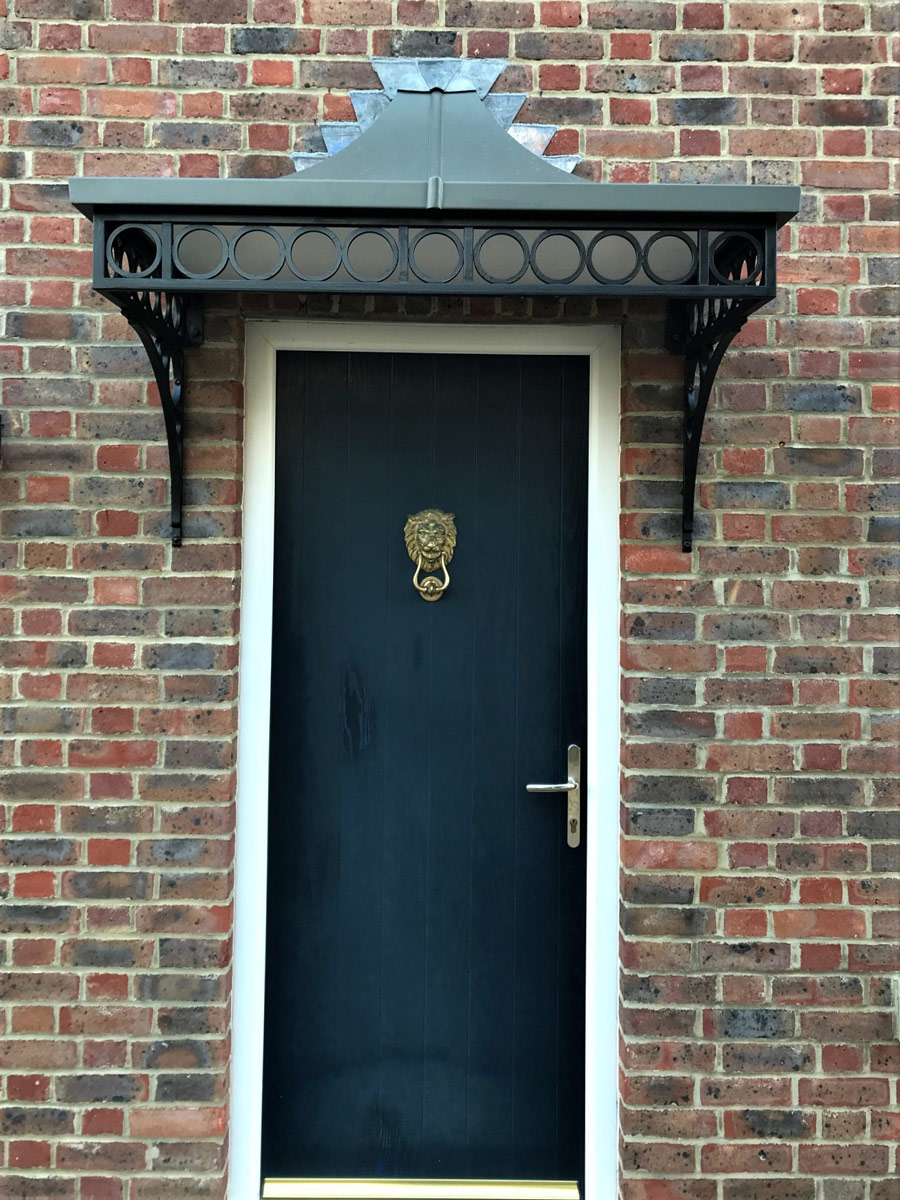 Our metal door Canopies are a great way to offer shelter from the elements whilst making your home characterful and inviting. Where space is limited or open access is required, a canopy is a great alternative to a porch. We offer a range of designs or the option to create a completely bespoke piece.  We can also make a door canopy to match our porches if you have a second entrance you would also like to cover.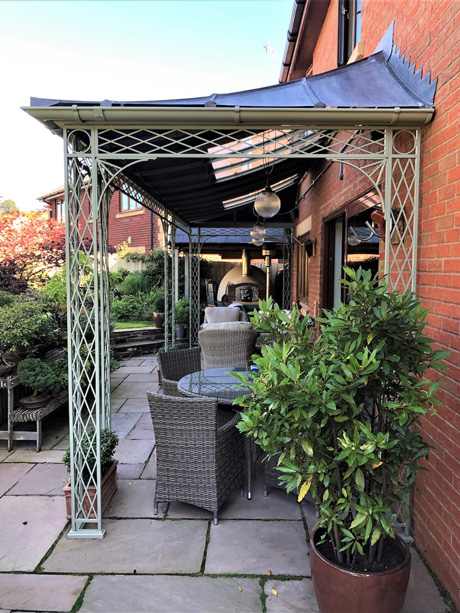 A veranda (sometimes spelt 'verandah') is a wonderful addition to your home, acting as an outdoor room to enrich your lifestyle, giving you space to relax, entertain friends and family or simply enjoy your own company with plenty of shade to keep your Pimm's cool in the summer! We can use any of our porch wrought ironwork designs or we are able to provide a bespoke design service to create your unique, personalised outdoor space.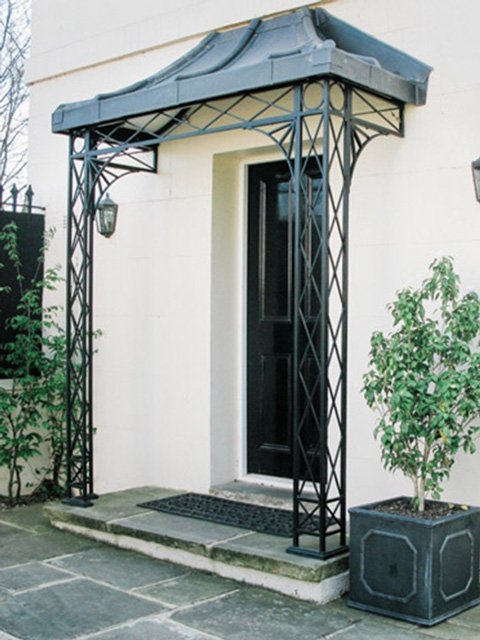 We offer a wide variety of porch iron work designs and finishing accessories to choose from or the option to create a completely bespoke porch design to suit your own style and the unique features of your property.  Our extensive range of aesthetically original metal work designs complement any period property whether it be Georgian, Victorian, Regency, or Arts and Crafts, and their simple elegance work equally well on more modern homes.
Our range of ironwork style options have been designed to complement a variety of architectural periods and personal tastes. All of our designs are available in sizes to suit the most typical door openings – however, as all of our ironwork is made to order we can create entirely bespoke sizes to suit any opening or space – we do not charge a premium for this service.
We are confident that you will see a design that stands out but if you are looking for something more individual please contact us to discuss your requirements.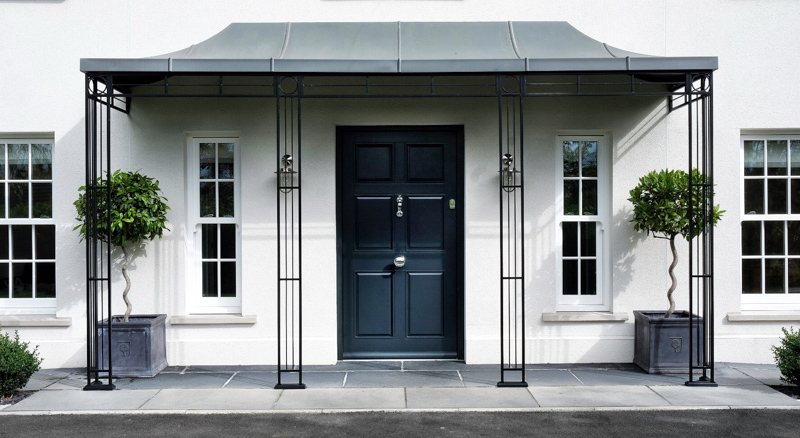 Fine Iron offer several roof options so that you can pick the finish that is right for you and your home.
Wanting a Lead, Copper or Pure Zinc finish? –  Then our roof frame work is the option for you. We would provide you with our roof framework that has been designed for use with our ironwork for finishing by others.
Thinking of light? – If you are concerned about losing light or letting light in then our glazing bar roof frame, with the option for full or partial glazing,  
Want a lightweight, complete solution? – Our galvanised mild steel, rolled and folded roof is a complete roof in itself and powder-coated in a heritage lead grey.
To complete your new porch or veranda we offer a range of high quality, craftsman made finishing touches to complement the robust quality of our wrought ironwork.
These carefully crafted pieces are made in Wales using skilled local suppliers – from natural Forest of Dean stone plinths, Cast shoes to our range of Spandrels. 
All of our Porches, Verandas and Canopies are finished in our high quality 3 coat paint system to ensure your ironwork stands the test of time  available in most RAL colours to ensure your new ironwork fits your scheme.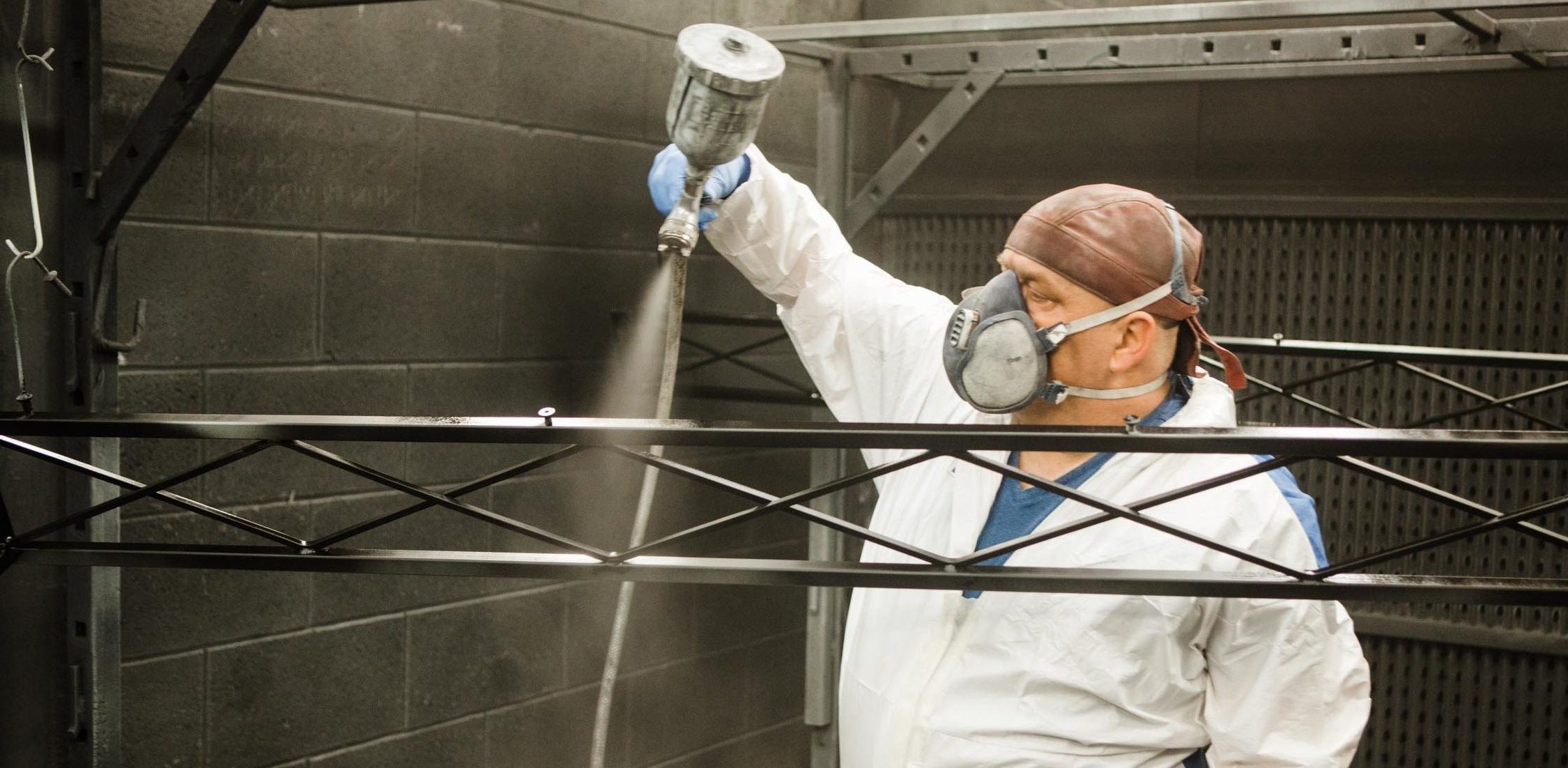 Ideas and Inspiration to Improve and Enhance your Home
This page is dedicated to metal door canopies, porches, verandas and balconies in wrought iron, iron and steel. It has information on styles and accessories with some excellent photographs of some of our projects.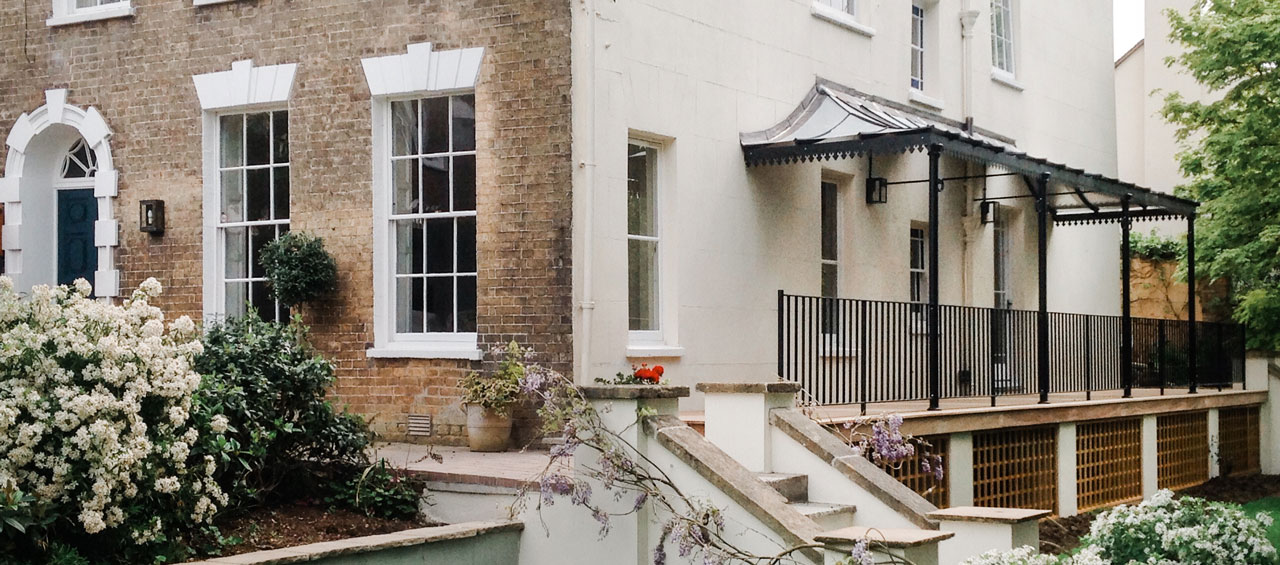 Fine Iron Traditional Metal Door Canopies, Porches & Verandas
An excellent finish can be obtained on the steel construction of our contemporary and traditional metal door canopies, porches and verandas using an electrostatic paint system.
The modular designs are relatively simple to install. They come in a range of standard sizes which can be mixed and matched to suit your needs.
We also produce a traditional zinc steel hip roof finished with a textured lead-effect powder coat or alternatively,
we can make a roof frame for cladding in a material of your choice such as lead, copper or slate.
We are of course happy to provide bespoke designs and sizes if required.
Regency Light Porch with Lined & Leaded Canopy
Crafted using our Regency light ironwork this porch adds depth and interest to the entrance of this home whilst offering shelter to waiting guests
Roseleaf Porch with Custom Frieze
This handsome porch was created using our Roseleaf uprights with custom decorative frieze panels and our roof framework with a larger than usual overhang as per the clients request.
Nouveau Porch with Flat Complete Roof
Our Nouveau porch adds depth and character to the entrance of this home whilst offering practical shelter from the elements. It keeps a modern feel being finished with a flat rolled roof.
Regency Light Porch with Lined & Leaded Canopy
Crafted using our Regency light ironwork this porch adds depth and interest to the entrance of this home whilst offering shelter to waiting guests.
Visit Porch Projects for more details.
Offering Bespoke Design
We use Fine Iron and a large variety of design options to make your ironwork
Contact us now for a free quote
Georgian Metal Door Canopy
Our bolder Georgian style porch ironwork was used to create this substantial period looking canopy, perfect for this new brick building, which has Georgian features such as the panelled front door with central brass door knob and external lighting. Completed with our rolled mild steel roof with traditional half round welt. In this instance the metal canopy sits slightly higher as the client did not want the canopy to obstruct the glass panel above the door.
This client was concerned about the potential of losing light through the fanlight going into the entrance hall. Therefore, it was decided that a glazed roof would be the preferred option. We provided a glazing bar roof frame, which the client had glazed with an opaque glass – this choice meant the client retained the light, but will need less cleaning etc than a clear glass. The classic ring design was chosen for the decorative ironwork panels along with sun ray spandrels. The finished look being befitting of the period property on which it sits, whilst the mix of glass and steel provides a more contemporary feel.
At Fine Iron we know that your home can be as unique as you! That's why we offer a completely bespoke service so that we can be sure to create the perfect ironwork to suit your home's individual features.
This client has three semi-circular steps leading up to the property, so our typical rectangular design canopy would have been juxtaposed with the steps. Instead, we created a curved metal canopy using our Nouveau design porch ironwork, which mirrors and highlights the curve of the steps. Topped with our roof framework – perfect for lining and finishing in lead or copper to create that traditional finish.
Regency Metal Door Canopy
This canopy was made using our Regency light metal porch ironwork design along with sunray spandrels and a complete rolled roof. Any of our porch ironwork designs can be used to create a canopy– the main difference being the depth of the decorative frieze panel, porch frieze panels are typically 180mm deep, whereas canopy frieze panels are 140mm deep. This canopy was made as a double width, framing the decorative render around the door and providing more space underneath for cover from the elements.
A double width ring canopy with sunray spandrels makes more of a feature of the entrance to this home. Topped with one of our complete rolled roofs with half round welts, powder-coated in a lead grey for that traditional leaded look, this was then lead flashed in by a local roofer. The decorative ironwork was finished in our classic sateen black, which compliments most homes. I'm sure this timeless ring canopy will provide ample shelter and protection from the elements for many years to come!
Bespoke Metal Door Canopy
The brief for this canopy was to keep it as simple as possible to suit this modern property. A bespoke design was created, removing all infill pattern in the frieze panels and spandrels then reducing the depth of the frieze for a minimalistic look. This was finished in a white paint to tie in with the cottage style window and door frames – the result? A clean and simple canopy that looks as though it was built with the house! The client chose our lighter complete rolled roof to compliment the design, this was sealed with a proprietary sealant to give a clean line around the roof.
Bespoke Design Metal Door Canopy
This is a bespoke design based on the traditional French style glass canopy, a design that works wonderfully well with this arts & crafts style home! Traditional scroll spandrels were designed to sit below the glazing bar roof framework, which has simple scroll detail at the ends and decorative finials running along the ridge. The glass was finished with a scalloped edge and the client added a porch light in similar style to complete this picture-perfect canopy.
Rose Leaft Wrought Iron Canopy
Rose Leaf Wrought Iron Door Canopy
Our beautiful and traditional looking Roseleaf design works fantastically well with this property, highlighting the decorative floral pattern in the side panels of the entrance. Formed using mild steel and cast leaves, this design is more 'organic' in appearance and also works well with traditional cottages and stone properties.  This double width canopy accommodates the side panels of the front door, with the added bonus of providing more shelter. It was finished with our complete rolled roof with half round welt detail, designed to complement our handcrafted, traditionally made ironwork.
Deco Design Iron Door Canopy
This client originally wanted a Deco design porch, however after careful consideration decided to opt for the same style decorative ironwork as a door canopy. This can be preferable with smaller entrances to keep clear access. The Deco design is attractive and decorative with the small central flower detail, whilst overall retaining an unfussy, simple look that works well on both period and modern homes.
A delicate and quite intricate verandah with a lead canopy graces this garden entrance in Hampshire.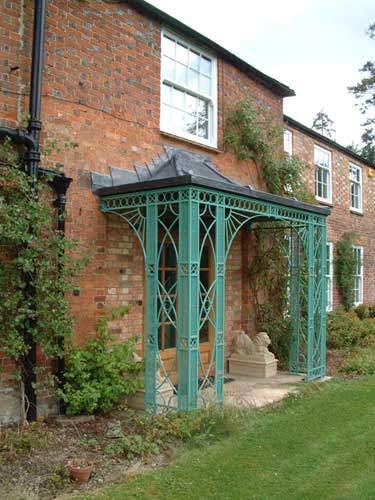 Offering Bespoke Design
We use Fine Iron and a large variety of design options to make your ironwork
Contact us now for a free quote
This ironwork veranda was produced to replace the original cast structure which had gone beyond economic repair. This replica was manufactured from laser-profiled steel combined with castings. Casting the entire structure would have exceeded the clients budget. The veranda is shown in galvanised finish prior to painting and installation of the roof.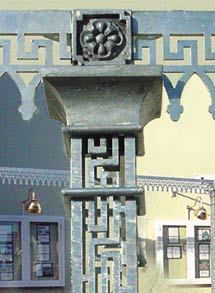 A close up of the combined laser profile sections and castings demonstrating how different materials can be utilised to compliment each other.
  Deco Design Porch with Natural stone plinths 
This Deco style porch rests on natural stone plinths and was topped with our traditional curved roof framework which has been lined and finished in lead.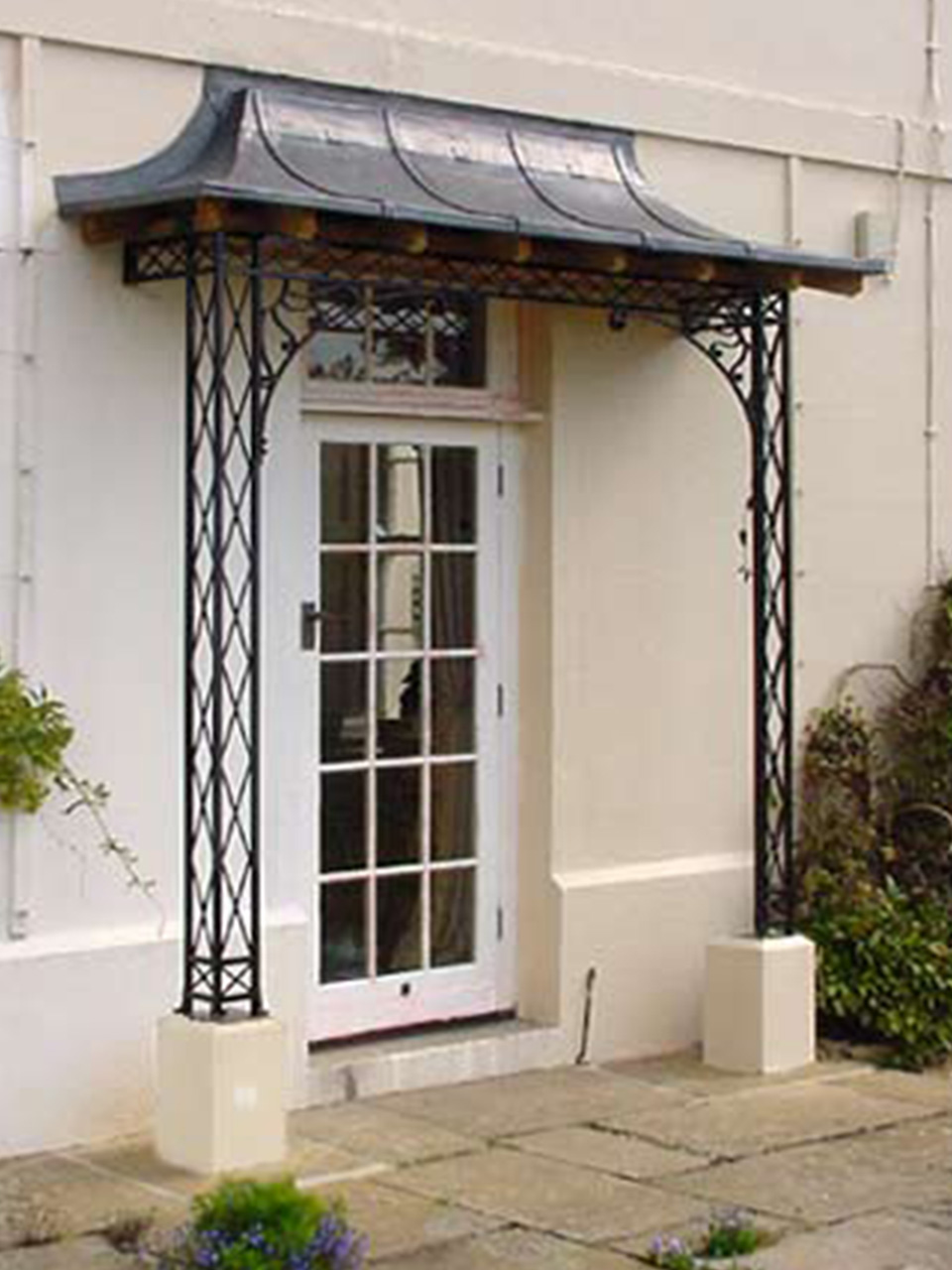 Lead porch canopy forms the roof of our Regency Light style of ironwork mounted on stone plinths.
Regency Period Style Porch
Mild Steel Porch
Regency Light style corner porch in painted finish on existing brick plinths with traditional rolled steel roof finished in a powder coated lead grey colour.
GEORGIAN DESIGN PORCH WITH LEAD ROOF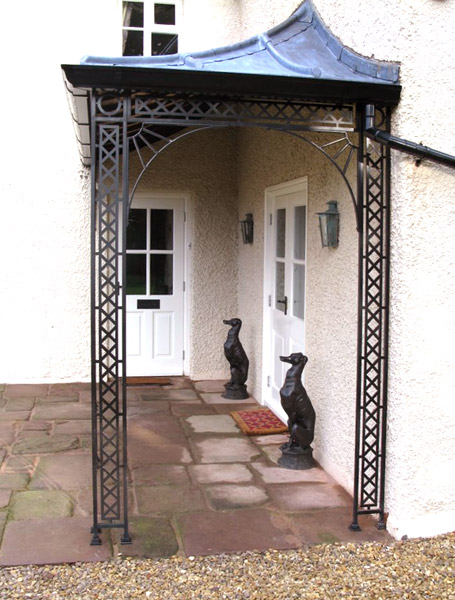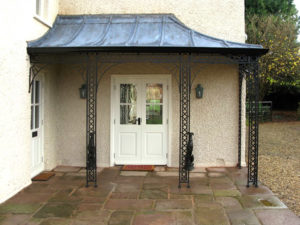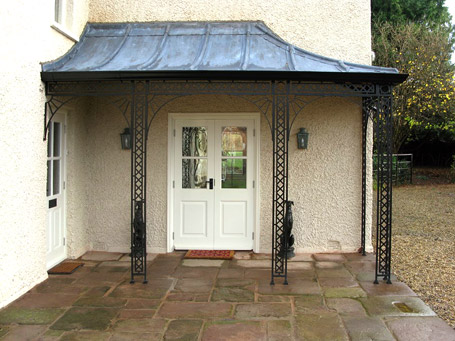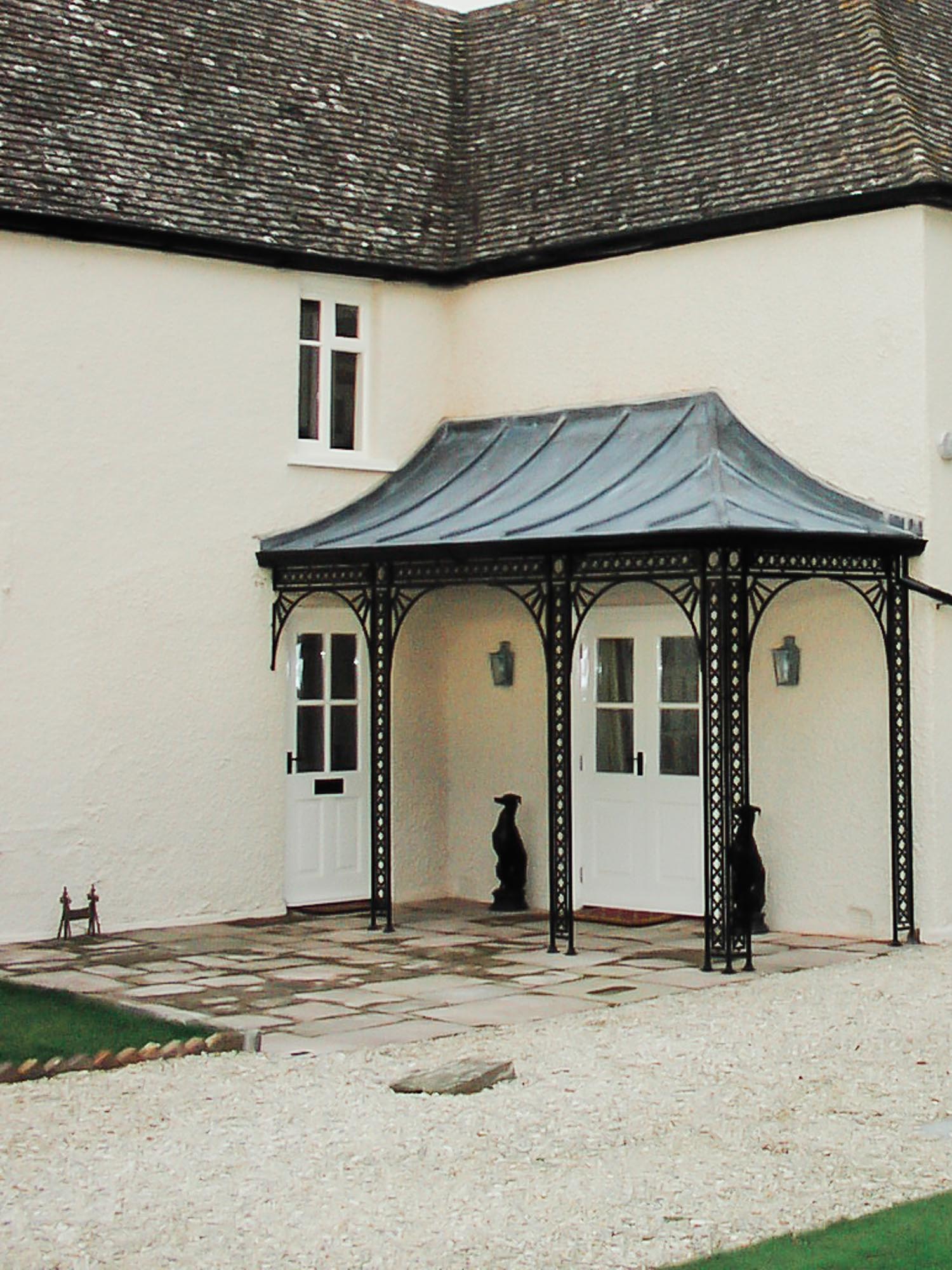 The design of the of the columns and corner supports of the Georgian Porch partially represents the rays of the sun.
 Regency style veranda, lattice design constructed from mild steel. Can be supplied with or without decorative brackets.
On this particular project Fine Iron produced a roof frame that was lined and lead clad by the clients builder. As an alternative we produce a fabricated rolled zinc roof that is powder coated in a textured lead grey finish.
CORNER PORCH WITH LEAD ROOF CANOPY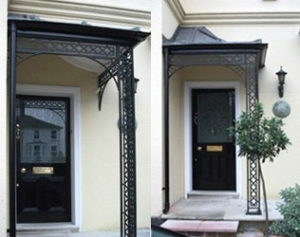 Georgian period style of corner entrance porch in black painted finish with traditional lead roof canopy.
HOTEL BALCONIES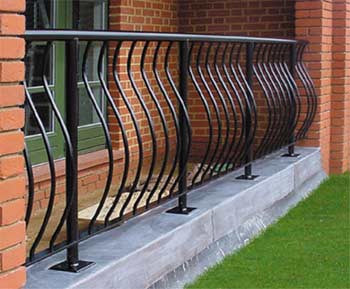 A closer view.
LEAD CLAD CANOPIES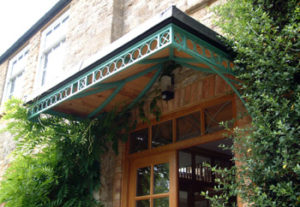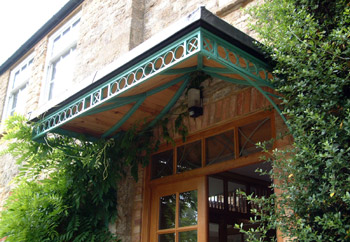 This canopy was designed to compliment the veranda shown to your left.
WROUGHT IRON BALCONIES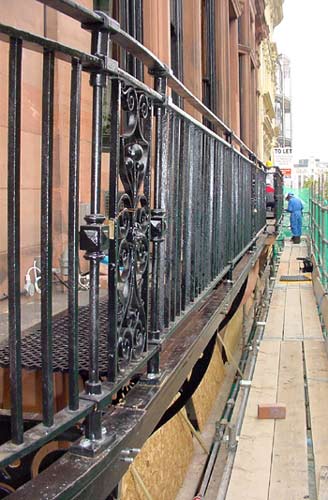 The Ulster Reform Club balcony, Belfast.
Shown during reinstatement.
CELTIC WROUGHT IRON VERANDA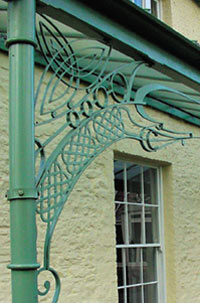 A closer view showing the detail of the dragons head and knotwork. This design was influenced by the Book of Kells.
WROUGHT IRON VERANDAS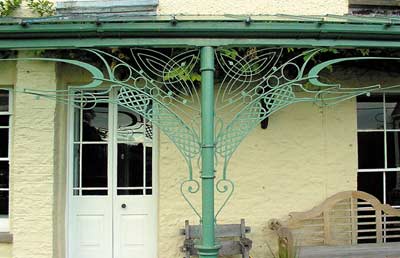 A uniquely designed Celtic style veranda commissioned by a private client. This project was one of three for the same premises, including simple traditional balustrade and elaborate 'Celtic' style firedogs.
PERIOD WROUGHT IRON BALCONY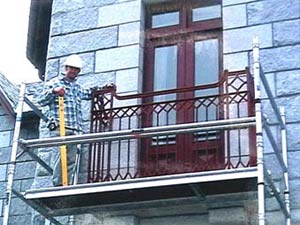 This wrought iron Balcony of the Georgian period is in Cheltenham. We can produce wrought iron balconies and ironwork from all periods and styles including Georgian, Regency, Victorian, Art Deco and contemporary.
MODERN IRONWORK HOTEL BALCONY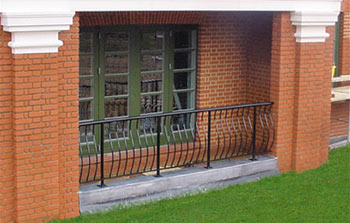 An example of a modern balcony built for a hotel.
Frequently Asked Questions
How can I contact you?
There are many ways to contact us and we are always happy to help! You can contact us via the contact page on our website, you can email us directly (info@fineiron.co.uk), or can telephone us during our normal working hours on 01874 636966. Our opening hours are 9am to 4:30pm Monday to Friday. You can also find us on Facebook, Pinterest, Houzz and Instagram.
Do you have a showroom?
We don't have a dedicated showroom; however, you are welcome to visit our workshop by prior arrangement. We are located in the hills just outside of Brecon. To arrange a visit please don't hesitate to call us on 01874 636966.
Where can I find designs, styles and more information about your Porches, Verandas and Canopies?
We offer a wide range of metalwork designs and styles to suit any property– for ironwork as individual as you! You can find more information about our range of porches, verandas and canopies including our typical sizes. All of our ironwork designs and roof options can also be viewed in our online brochure, which can also be downloaded as PDF.
What materials are your products made from?
Our typical Porches, Verandas and Canopies are handcrafted from solid steel – we would only use hollow section in some roof options. Certain elements maybe cast iron – such as our optional cast shoe covers. Our traditional style columns are generally made from cast aluminium please feel free to contact us for more information about this.
For materials used for roofing please see 'What roof options are available?'
What colours can I have my finished ironwork?
Our Porch, Veranda and Canopy Ironwork is finished in our high-quality paint system, which has been painstakingly scrutinised and revised to ensure a long -lasting and high-quality finish. We are able to match any RAL no. colour you would like and generally there is no extra charge for this service. Our paint is available in a matt or sateen finish. You will be provided with a small tin of touch up paint with the delivery of your new ironwork.
Are you able to galvanise – I live near the coast.
Due to the intricate design features of our ironwork we recommend having a zinc thermal coating prior to painting. We can do this in-house, meaning we have full control over handling of the ironwork and time implications to the production program.
What is Zinc Thermal Coating? When is it recommended?
A zinc thermal coating is an equivalent to galvanising, however as it is sprayed on cold there aren't the risks of warping often associated with the hot dip process. We would recommend this if you are in a coastal or exposed area, some customers choose to have this for a glazing bar roof as it can be tricky having to get to the bars to repaint them or touch them up.
What do you need to know in order to provide me with my personalised estimate?
Ok, so here is what we need to know: –
Some basic contact information including your name, email address, telephone number and the address.
If you are able to send a photo of where the ironwork is to be installed this can be extremely useful – 'a picture is worth a thousand words' as they say.
Approximate dimensions these must include the width, the depth out from the building and the height to the underside of the roof. (Click to see example image)
The design of ironwork you would like, whether it is one of our existing designs or you have been inspired by a design you have seen elsewhere
The type of roof you would prefer and any accessories you would like to finish your ironwork off – such as cast shoe covers or our forest of dean stone plinths (please see our brochure for more information about the options available)
Do you install the ironwork?
The vast majority of our porches, canopies and verandas are installed either by our clients or by their own builder as this helps keep prices down for our customers and very often there are already contractors on site carrying out other works or landscaping etc. Our ironwork has been designed for ease of installation and we do supply full installation instructions with simple diagrams and fixings.
What are roof options are available?
Typically, we provide three options for porches, canopies and verandas. Our complete rolled roofs are the most popular choice for our porches and canopies, although the roof framework for covering in lead or copper is also very popular. For verandas some clients do choose the complete rolled roof option, but more commonly we would provide our roof framework for covering in lead or copper or our glazing bar roof framework, that can be used with zinc sheets, a combination of zinc sheets and glazing (often above doors or windows) or completely glazed. Again, in order to keep the cost down it is usually more economical for any lead work and/or glazing to be completed by a local tradesman.
(We offer an array of roof options to give you the freedom to choose what you prefer. Our most cost-effective option would be our galvanised mild sheet roof (see below for more information about this type of roof).
We can provide a roof framework which can be lined and leaded by your local roofer/ builder – we do not line and lead ourselves as we are not a roofing company and there are many styles of lining and leading, which are best worked through with a professional in that trade.
We also offer a glazing bar roof, which allows you to have a partially or fully glazed roof, this can be straight or curved with hipped ends. We do not supply the glass as we are not a glazier, but do supply the mild steel sheet for infill panels if required.)
Can you attach guttering to a galvanised mild sheet roof?
9 out of 10 of our porches, verandas and canopies do not have guttering. It is not possible to attach guttering to our complete rolled roof, it is rolled and folded and therefore doesn't have a drip edge to throw water into the gutter. If you would prefer to have guttering, you would need to opt for a roof framework or glazing bar roof.
Can you line a galvanised mild sheet roof?
The galvanised mild sheet roof is rolled and folded from sheet and as such, the underside of the roof is the inverse of the top, there is no internal framework. This being the case, there is nowhere to attach lining to. You could however insert a ceiling or you could paint the inside of the roof a different colour.
Can you flash around the galvanised mild sheet roof using lead or similar?
Yes you can, in fact this is the preferred choice for many of our customers, owing to the fact that it's more durable than using a sealant and gives that traditional finish.
How will my order arrive?
Once the ironwork is complete, we will contact you to arrange a convenient day for delivery on pallet via our trusted courier.
We take the utmost care when packing and your pallet will be made specially for your ironwork. However, we would always ask that the ironwork is unpackaged and inspected before the courier leaves. In the extremely rare event of any damages we would ask that you make us aware of this as soon as possible and send any relevant photos. (All of our Ironwork is photographed prior to leaving our workshop)
Is there a delivery charge?
Some of our customers prefer to collect their ironwork directly from our workshop in the heart of Wales, for others this may not be practical so we can arrange delivery via our trusted courier. Cost would depend on location and size and number of pallets needed to safely transport your ironwork.
Do prices include VAT?
All prices exclude VAT unless otherwise stated.
Do you keep any stock?
Everything we make is handcrafted to order by our highly skilled workmen to suit your unique requirements so we do not keep stock, apart from some of our accessories.
Can I return my order if I don't like it?
All of our Porches, Verandas and Canopies are handcrafted to order to your chosen design and specified dimensions. Fully dimensioned drawings will be provided for you and/ or your architect/builder to sign off before the commencement of any work. This being the case we cannot take returns. In the unlikely event that there is a fault or error with the ironwork please contact us immediately. For further details please see our terms and conditions of sale.
What is your lead time?
This can depend a variety of factors including the size of the order and design of your ironwork also the amount of orders we currently have going through production in our workshop at the time you place your order. As an average a typical lead time can be anything between 8-14 weeks. We may be able to get you order out quicker if required, please ask at time of order.
What is included with my ironwork?
Included with any of our porches, verandas or door canopies are our easy-to-understand fitting instructions, fixings required to assemble the ironwork and even an Allen key!
If you or your builder have any queries when installing our ironwork, we are always on the end of the phone and are more than happy to help in any way we can!
What maintenance is required if any?
All of our ironwork is constructed using the best materials and the highest standard of manufacture and with a little maintenance will last you for decades. For more information about maintenance, please see our 'caring for your ironwork' page.
As with any natural product that has been painted for protection, particularly one that spends its life outside, ironwork does require periodic inspection and a little maintenance in order to keep it looking beautiful.
This is a very easy process:
We recommend a full visual inspection 6 – 10 weeks after installation to ensure there is no discolouration/oxidation from water ingress which may occur in some of the tighter joints, or from chips/scratches that may have been missed initially.

Frequency of subsequent inspections/maintenance will depend very much on local conditions but should be at least annually.

Any debris, leaves etc. should be cleared to prevent water getting trapped and sitting against the ironwork.

The ironwork should be wiped over with a damp cloth intermittently to remove any dust/dirt.

Any chips/scratches that occur in use should be touched up as soon as possible before oxidation occurs. We appreciate that you may not spot them straight away so if oxidation has already occurred, this can easily be remedied by gently and carefully rubbing back the affected area with a light abrasive pad/Scotch pad (such as those on the back of a washing up sponge), applying a proprietary rust inhibitor and touching up with the paint provided. Step by step instructions on how to do this are available on our website.
Installation - How to handle my ironwork?
Thank you for purchasing your new ironwork from Fine Iron. We want to ensure you are completely happy with your ironwork and it remains as pristine as when it arrived for many years to come.
In order to do that, please follow these simple guidelines:
The ironwork should be unwrapped on arrival in order to check the goods. If you do not intend to install the ironwork immediately it can be tempting to leave it wrapped for protection – please do not do this (refer to packing and delivery instructions for further information).

The ironwork components are very heavy. If they are placed directly on or against a hard surface (e.g concrete, brick, stone, paviours), either when unpacking, when storing it after unpacking prior to installation, or during installation, the weight if the ironwork on/against the surface can damage the paint finish. The damage to the coating may not be easily visible so you may not even think it requires touching-up with the paint provided but after a time oxidisation will occur and orange staining will become apparent on the surface. To prevent this happening, please ensure a suitable buffer is placed between the ironwork and any hard surface – this could be cardboard, a lint-free material or similar.

It is preferable not carry out any cutting/welding works, or any work that creates sparks or debris travelling at high speed, in the proximity of the ironwork but if this is unavoidable, please ensure you provide suitable protection and cover the ironwork beforehand. Sparks and debris will embed in the surface of the paint which are then highly likely to cause oxidation/rust to form.

Once installation is complete, wipe the ironwork over with a damp, lint-free cloth to remove any dust/dirt (this will also help you to spot any chips or scratches).

Chips and scratches to the ironwork will invariably occur during the installation process. This is perfectly normal and we provide small tin of paint with every order to enable these to be touched up (this can also be used to paint the heads of the fixings). Touching up should be done immediately or as soon as practicable following installation before any oxidisation occurs.

We recommend a full visual inspection 6 – 10 weeks after installation to ensure there is no discolouration/oxidation from water ingress which may occur in some of the tighter joints, or from chips/scratches that may have been missed initially.

In the unlikely event oxidation/discolouration occurs, this can easily be remedied by gently rubbing back the affected area with a light abrasive pad/Scotch pad (such as those on the back of a washing up sponge), applying a proprietary rust inhibitor and touching up with the paint provided. Step by step instructions on how to do this are available on our website.
British Celts & History / Development of Iron
FASCINATING FACTS & THE STORY OF IRON
What is Wrought Iron?
Wrought iron has been used in building from the earliest days of civilisation, wrought iron door furniture being commonplace in Roman times. The structural use or iron gates from the middle ages, when bars of wrought iron would be used occasionally to tie masonry arches and domes. This use of wrought iron in tension guaranteed its use throughout the ascendancy of cast iron in the canal and railway ages, as cast iron is strong only in compression. The ill fated first Tay Bridge was of cast iron beams tied with wrought iron. The demand for higher dynamic loads in bridges and warehouse buildings, and the ever greater spans of train sheds towards the end of the nineteenth century, led the designers of buildings to acquire the technology developed to build ships of iron, and create beams of riveted wrought iron rolled sections. By the turn of the century this had led to buildings completely framed in wrought iron, and later steel, girder sections, and cast iron was once again relegated to an ornamental role.
Our main concern with wrought iron, however, will be in its application to gates and railings, frequently given an ornamental treatment by the blacksmith.
There are wrought iron railings in Westminster Abbey from the thirteenth century, which, in essence display all the characteristics which we have come to know as 'wrought ironwork', although lacking modern refinements such as symmetry and sweetness of line, but the great age of British ironwork, known as the 'English' style began at the end of the seventeenth century. A French fashion for the Baroque style in gates and railings, swept the country houses of Britain, following the import of craftsman by William and Mary, and the greater part of our national stock of good ironwork dates from the early years of the eighteenth century. After the rise of cast iron as an ornamental medium, wrought iron tended often to take a secondary role, owing to its comparative expense, each piece being made by hand, while castings could be repeated ad infinitum, once the patterns were made. Technically, however, the craftsmen of the age of machines, excelled their forebears, as indeed they must while making mechanical components, so that the ornamental blacksmith work of the nineteenth century displays a perfection of manufacture not seen before nor since.
After the introduction of mild steel, cheap because of its ability to be mass produced, wrought iron, and the craft skills associated with it, gradually disappeared in accordance with the general decline of craft standards in the twentieth century, until the last ironworks ceased production in 1974.
From 1982 Chris Topp & Co. and later The Real Wrought Iron Company, have made available a limited supply of puddled wrought iron, derived from scrap metal. The subsequent years have brought a steadily increasing demand, as the blacksmiths of Britain have slowly taken up again the ancient skills.
Alternatives to Wrought Iron
The modern replacement for wrought iron is mild steel. Many metalworkers are perfectly content to use this much cheaper metal both for new work and the refurbishment of old. I would like to suggest the reasons why this is not acceptable, while wrought iron is yet available.
I
The weathering properties of wrought iron are well known. While it does of course rust in time, with reasonable maintenance this can indeed by a very long time. The fact that so much ornamental work survives from three hundred years ago says a lot for the material. On the other hands, steel is well known for its ability to corrode, and the intricate forms and water traps of "wrought ironwork', only encourage corrosion. Hence it is normal practice to coat steelworks with zinc, which does indeed delay corrosion, but neither galvanising nor zinc spraying can effectively be applied to complex forms.
2
Modern conservation practice insists on the replacement of materials with like materials. When wrought iron is available for the repair and replication of wrought ironwork, why use mild steel?
3
The craft of the ornamental blacksmith, as previously practiced to a high degree of skill, was virtually eradicated by the shift to mild steel, with its ready application to "high tech' techniques such as electric welding. As mentioned above, some of the blacksmiths are learning again the old skills. Only by use of the traditional methods and materials can work of an appropriate standard by produced.
Maintenance of Ironwork
Ironwork is commonly supposed to be nearly free of maintenance. Unlike wood work which is religiously subjected to a stern regime of regular painting, ironwork is frequently left to rust undisturbed for long periods, so much so that the only attention that much even important ironwork receives, is periodic major overhaul, at great expense. This could be avoided by frequent small attention. Insistence on frequent inspection would be of benefit, perhaps once a year, with immediate, and usually trivial remedial work to arrest any developing problems.
Iron and Celtic History
Much of what we know about the Celts has been learnt through oral tradition. It is thought that the name given to them by the Greeks – Keltoi – means " hidden people " due to the reluctance of the Celts to commit any of their vast wealth of knowledge to writing.
What we know of their early history has been largely learnt through archaeological excavations of the settlements and burial sites found across Europe.
The Celts probably descended from Stone Age peoples of Europe, who began to populate the continent about 10,000 BC.
At the start of the first millennium BC the Celts possessed great skill in metal work, especially wrought iron, and by the 6th century BC they had a formidable armament of spears, swords, axes as well as agricultural implements. By 450 BC new centres of Celtic civilisation emerged and increasing mastery of iron work led to specialisation – wagon makers, shipbuilders, wheelwright etc – Amid this increased productivity an artistic style emerged; " La Tene ," design was bold and complex, and quickly became dominant throughout Celtic lands. Celtic affluence grew, and around 400 BC Celtic tribes crossed The Alps, sacking Rome in 391 BC and settling in Northern Italy.
A century later they pushed into Greece and Asia Minor and by 250 BC " La Tene " culture was at its height. The Celts resumed full scale trading over their old trade routes and by the second century BC new established fortified towns replaced many of the old hill forts, abandoned in the fifth century BC. Serving as centres of commerce and manufacture they were immensely lucrative; however Celtic trade grew increasingly dependent on Roman markets.
In 192 BC Rome established its supremacy and later conquered the area of Southern France we now know as Province. By the mid first century BC the Romans began their assault on Western Europe. With their loyalties still tribal rather than national the Celts were unable to mount a unified resistance.
Gradually the Celts adopted the ways of their victors but Celtic Culture remained dominant in Britain until AD 43 when Rome conquered the Southern half of the island. Ireland then became the bastion of the Celts until it's fifth century conversion to Christianity. Even after that, tribal memories held on to Celtic languages and legends, which were at last written down by eight-century Irish Christian clerics.