To order or make an enquiry
Product Information
Our Regency Light ironwork has 180mm wide uprights and the same depth frieze panels with 'diamond' pattern inserts. If you require or prefer to have spandrels we would generally pair this design with the 'sunray' spandrel as shown above.
Finished off beautifully with any of our roofs (for more information regarding available roof types please see our 'Roof Options' page)
We have now moved into our lovely new home and are delighted with everything.
There have been so many compliments on the porch and we are so glad that we found your company and were able to benefit from your expertise – a huge thank you!
We wish you all continued success and send our thanks to everyone involved in creating and making our delightful front entrance to our home.
Materials
With a long blacksmithing heritage Fine Iron uses only best quality materials that will stand the test of time. We are proud to use quality solid steel sourced in the United Kingdom with the vast majority of our designs being formed from solid section and crafted using the latest manufacturing technologies.
 Any fixings supplied with our ironwork are in accordance with BS standards.
Measuring Advice
A range of typical widths and depths are available for you to choose from for your convenience. We do understand that not every entrance is 'typical'! If your home requires a more made to measure approach all we would need is the overall width, the depth out from the building and the height from ground to the underside of the proposed roof. Many of our customers also like to send us an image or two of the entrance it is to be situated, we can then take any restrictions into consideration.
If you would like more information regarding this we have a handy 'measuring guide' on page 15 of our brochure, alternatively please feel free to contact us – we are always happy to help.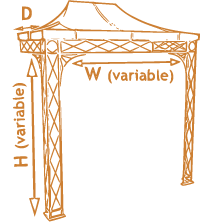 Finishes
Our experience and expertise has resulted in a durable and authentic finish to protect your ironwork for years to come.
All ironwork is shotblasted prior to finishing so that surfaces are taken back to base metal to ensure all surfaces are perfectly clean and have an etched surface for excellent adhesion of base paint. Further coats of paint are then applied using our tried and tested paint system. The standard finish is a traditional sateen black, however we are able to finish in most colours to suit your requirements – all we need is the RAL colour reference. 
Delivery
 All of our Porches are palletised and packed with the greatest care – infact we have received many compliments about the quality of our packaging from clients and couriers! Once a convenient delivery date has been arranged our trusted courier will deliver your ironwork.
Alternatively, our customers are always welcome to visit us and collect the ironwork themselves at a pre-arranged time if preferred.
Installation
All of our Porches have been designed for ease of installation and include fixings for the ironwork and installation instructions. The majority are installed either by the client (if they are a confident DIYer) or by your local/ preferred builder. 
If you would like further information or assistance regarding installation please don't hesitate to contact us – we are always happy to help.