Porch, Veranda and canopy Roof Options
Porch, Veranda and Canopy Roof Options
Complete your porch or veranda with one of three roof options.
Zinc rolled roof – A complete roof in itself, this is finished in a textured lead grey or black powdercoat. Half round welts give the appearance of of a more traditional lead roof with standing seams. Please note that guttering cannot be attached.
We also offer curved, scallop-edge zinc roofs. These are complete stand-alone roofs which do not require spandrels or decorative frieze panels.
Roof framework – Supplied ready for covering in a finish of your choice such as lead or copper. Ply or T&G boards are laid over the framework to support the lead which provide a pleasing finish to the underside.
Glazing bar roof framework – Supplied ready for glazing. If only partial glazing is required, we can supply aged patinated rolled zinc sheets for infilling between the glass panels.
Both our rolled roofs and roof frameworks are available in our standard ironwork sizes or bespoke sizes to suit.
Colours of roof options shown in the slide show may differ on finished product.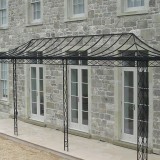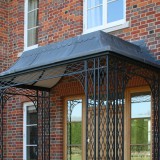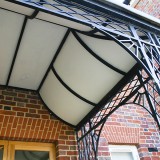 Underside of a leaded porch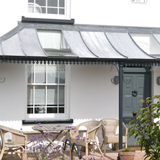 Veranda with zinc and glass roof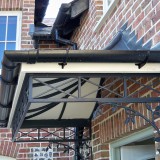 Entrance canopy with lead roof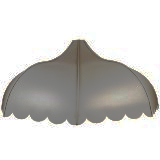 Scalloped edge design canopy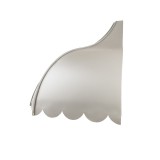 Canopy with scalloped edge design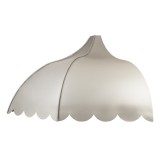 Canopy with scalloped edge design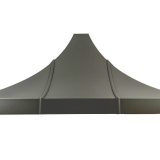 Standard zinc roof/canopy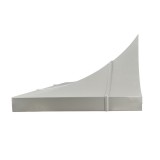 Standard zinc roof/canopy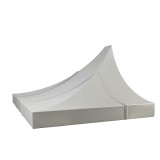 Standard zinc roof/canopy